Silverstripe Professional Partner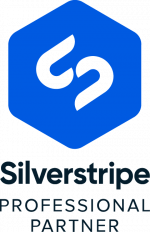 We are proud to announce that we now are Silverstripe Professional Partners. We have implemented over 50 Silverstripe CMS websites and continue to use the platform as as our preferred CMS.
Your Benefits
As a partner we have a very close relationship with Silverstripe. And on top of providing our customers with the latest releases and features of the software we can offer services provided by Silverstripe like the Silverstripe Platform.
Open Source
Silverstripe CMS is an open source web content management system used by government organisations, businesses and nonprofit organisations around the world. The CMS is an easy to customise power tool for professional web developers and easy to use for web content authors. With over half a million downloads and thousands of active members in the online community. Silverstripe CMS is widely known and supported.
The Silverstripe framework is written in PHP and can be used within a Linux, Windows or Apple environment. Silverstripe was the first Open Source CMS to be certified by Microsoft, in May 2010.
Updated 20/2/2017 after Partnership change from SilverStripe Australia to SilverStripe LTD (NZ)
Updated 09/01/2020 after rebranding from SilverStripe to Silverstripe