Silverstripe Development
A Silverstripe based website as unique as your business
At Innoweb, we only ever use Silverstripe CMS to build your website. That's because Silverstripe CMS allows us to develop the website you and your brand need, not what some platform dictates.
You want a website that reflects your brand's personality, values and points of difference. You want something as unique as your business. And that's exactly what you get when you pair with us and Silverstripe CMS. At Innoweb, we have a wealth of experience in web application designs and a commitment to coming up with tailor-made solutions for each client.
Why you'll love Silverstripe
Released in 2006, Silverstripe is open source and powers over 50,000 sites world wide. Silverstripe is used by many well-known brands and organisations, like the Ian Potter Foundation, Gordon Ramsay, Industry Super, Juicy Rentals, Wesley Mission, Landcom, Westpac NZ and over 60 NZ Government Agencies.
Over 450 freelancers and agencies use Silverstripe CMS for their site development globally.
Silverstripe is:
User-friendly: You don't have to be a geek to be able to use Silverstripe quickly and efficiently.
Focused on content: Silverstripe can help with strategy, migration and managing content across a number of disparate sites, systems and technologies.
Standards compliant: Silverstripe is built with best practices in mind ‒ it's easy to make and keep your site compliant with W3C web and accessibility standards.
Secure and scalable: Silverstripe is extremely scalable and grows with your needs.
Cost-effective: Silverstripe is open source and free to use.
Flexible: The modern Silverstripe architecture allows us to build interactive, sophisticated sites and applications and is completely extendable for your specific needs.
Supported: Silverstripe has a fast-growing international reputation with over one million downloads to date and a global community of developers.
Easy to track: You can easily track your edits with version history, and manage different levels of access for editing pages of your website.
Expert help with existing Silverstripe projects
Sometimes you need help with a project you've already started.
Because we know Silverstripe inside out, it's easy for us to pick up an existing project and get it to where you want it to be.
Maybe you were working on a Silverstripe project with someone who's no longer on the team, or maybe you've started one and need some advice, or don't have the time to finish. Whatever the case, we can pick up the torch and help you finish your Silverstripe project.
Feel free to drop us a message about your current project.
Pair with a Silverstripe partner
Our highly skilled Silverstripe development team is always keen to hear about interesting new challenges.
As a Silverstripe Professional Partner, we're intimately familiar with what's achievable with this award-winning CMS. Being closely connected with its creators, we can help you with everything Silverstripe-related.
Need help developing a website? Talk to us about a quote today
Have complete control over your website - and save money
If it's a bespoke service you're after, Silverstripe CMS is for you. Unlike other platforms that use templates, Silverstripe offers you complete control over your website. That's exactly the kind of flexibility you need for your website to act as a powerful marketing tool.
Silverstripe's rich set of tools and features create a cost-effective way to maintain your online business and always keep it up to date, saving you money from the get go and in the long run.
Silverstripe speaks your language
Want to reach your target audience in a way that will really speak to them? We can build a website that supports any languages of your choice.
And with more than 80 languages to choose from, Silverstripe CMS makes it easy for your content team to translate your website into any language. It's hard to beat that kind of customised service.
Security is key
When it comes to your website, the last thing you want to worry about is the latest security threat.
That's another feature we love about Silverstripe: it has you ‒ and your customer ‒ covered.
At Innoweb, we're vigilant about security. That's why we offer our own secure, affordable hosting for your website.
And if you need more power, we can set you up on your own server or the Silverstripe platform offered by Silverstripe Ltd.
Keep adding value to your website
As your business changes, so should your website.
With a future-proof website built on Silverstripe, we can add a wide range of functionality, including:
e-commerce solutions
social media connectivity
blogs
site search
image galleries
forums
event, news and other pages
Whatever your site needs in its current state of growth, we can help you achieve it.
Using Silverstripe, we can optimise your website's performance, extending core features to suit your website's current needs. And as your site evolves, so will the code, always keeping up with your current requirements.
There's a reason designers and developers alike love Silverstripe's award-winning open-source CMS. It allows us to meet development requirements like integration into a range of systems, including CRM and Product Information Management software (PIM).
Silverstripe is easy to navigate, with a highly intuitive interface. And it's hard to beat on aesthetics, allowing for stunning design, compelling content and the latest interactive and social functions.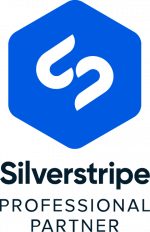 Silverstripe Professional Partner
Innoweb is a Silverstripe Professional Partner. As a partner we have a very close relationship with Silverstripe Ltd and can offer a wide range of services including development, code reviews and project support.
Silverstripe is an award winning open source CMS. It is loved by editors and developers alike for its flexibility and intuitive interface.
Silverstripe is our preferred CMS and we have used it in dozens of website projects for a range of clients from large corporations and governmental organisations to small and medium-sized businesses, associations and individuals.
Florian is a highly skilled developer, a consummate professional and a pleasure to work with - quick, responsive and responsible. He understands the nature of the business and always gives his best! I highly recommend him.

Florian was very responsive and he developed an excellent understanding of our organisation and the functions we needed the new website to perform. The ongoing service is very good and it's reassuring to know we can contact him at any time to find a solution to any problem we have.